JMS Signs & Awnings has been a constant presence in the Passaic and Bergen Counties areas for more than 20 years. We provide knowledgeable professionals that Custom Design, Manufacture and Install Metal, Wood and Fabric Structures to fit your Residential or Commercial needs.

For more than 20 years, we have been designing,delivering, maintaining and keeping up signage all through the New Jersey territory. We have served a large number of customers and our work can be seen throughout New Jersey.

Thanks to our high volume production facility located in New Jersey, we are pleased to offer same day or 24/48 hour administration for those times when you simply don't have days to wait. When you band together with the specialists at JMS Signs, you won't need to panic whenever you are confronted with a short deadline. Our staff gives an individual touch on every request that is gotten and is prepared to help you make an interpretation of your message into an expert item that you will be glad to show.
Serviced Areas
Bergen County NJ, Passaic County, Morris County, New York City
Payment Options
American Express, Debit Cards, Discover, MasterCard, VISA
Contact Details
Products & Services
Custom Sign
At JMS, making custom signs and awnings is not just a job, it's a passion. We take pride in learning about your needs and dreams for your business and then we go about crafting the a sign or awning to match your business image.

Whether you're looking for a modern, sleek image or a traditional corporate sign, our designers and sign craftsmen will bring your ideas to life.
---
Services
Graphic Design
At JMS we put an extraordinary of effort into tailoring each sign to your liking.
Each sign is custom designed by our graphic designer and is sure to impress you no matter what.

Approval
As experienced sign makers we know that everyone has their own taste which is why we make sure that each customer approves of our graphic design before we proceed in making the sign. Every step at JMS takes the customer into consideration.

Preparation
Once we have the go ahead from whoever the sign is being tailored to we begin preparing all the necessary high-quality materials that is needed to make the sign. Unlike other sign makers we realize that the preparation is one of the most important parts in making your sign come out great.

Building
Each of our signs is made by our experienced staff who have been making signs for over ten years. At JMS signs the process of building the sign is quick but well thought out.

Installation
After the customer is completely satisfied with the sign we install the sign. Our experienced employees have been working with signs for years and quickly install the sign.
I would recommend this business
A business that is responsible.
None
I highly recommend JMS Signs and Awnings. I needed a custom made awning for my side patio. I contacted several awning companies in Bergen and Passaic Counties. Left phone and email messages. Some returned the calls, said will call back, and never did. Others never responded at all . However, Ronnie of JMS Signs and Awnings contacted me. He came to my home to review my needs, and discussed what was best. He was extremely professional, and very interested in meeting my request. He had an excellent supply of fabric samples, and his price was fair. He promised the finished product in 2-3 weeks from ordering, and delivered in 2 weeks. The new awning was perfect, along with the installation. It is a pleasure to find a business that offers quality work, and is responsible.
| | | |
| --- | --- | --- |
| Value for money | | |
| Service & support | | |
| Quality | | |
| Location | | |
| Overall rating | | Excellent |
---
I would recommend this business
They did a Sign for me, it turned out better than expected!
The price was affordable and it was installed after a few days.
Can recommend this place!
| | | |
| --- | --- | --- |
| Value for money | | |
| Service & support | | |
| Quality | | |
| Location | | |
| Overall rating | | Excellent |
---
I would recommend this business
Great job and installation. A great value.
| | | |
| --- | --- | --- |
| Value for money | | |
| Service & support | | |
| Quality | | |
| Location | | |
| Overall rating | | Excellent |
---
I would recommend this business
fast, great construction, affordable
I called Ronny to find out about awnings for my restaurant. He was there later that day to take measurements and got me a proposal the next day. A week later, the awnings were completed and installed. Really gave my place a great new look.
| | | |
| --- | --- | --- |
| Value for money | | |
| Service & support | | |
| Quality | | |
| Location | | |
| Overall rating | | Excellent |
Customer Testimonials
I had an older awning that came with the house when I purchased it. It was a custom awning that needed to be replaced. After providing the awning to JMS, they produced an exact copy. The fit was perfect, the material and overall quality were excellent.
---
I called Ronny on a Thursday to get a quote on awnings for my restaurant. He was there later that afternoon and got me a quote the next day. The awning were installed the following week and I couldn't be happier. It really gave my restaurant a custom look.
---
Ronny responded to my call asap. They are very reliable, it was a difficult job, but they didn't give up until we were completely satisfied. I'm very pleased with them, their effort, and I love my new awning! Thank you!
Photo Book
Social Activity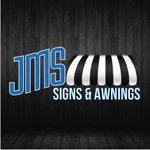 JMS SIGNS & AWNINGS CALL 973-246-8527 today! ------------ https://t.co/g33sY882lt
WE ARE HIRING / ESTAMOS CONTRATANDO Welding / Soldadura Fabrication / Fabricacin Installation / Instalacin Spanis https://t.co/IBxQPJF030
From Our Website
We are a passionate Sign Shop who are all about the sign industry and have over 30 years experience in the sign and graphics business. We also have the latest in sign printing and manufacturing technology allowing us to print large format posters, signs, wraps, awnings, decals and more. As technology keeps advancing, we stay up to date with it all so we can always provide our customers with the highest grade signs.
---
At JMS we are able to achieve the best Neon Signs by combining a top quality manifold and vacuum system with only premium glass and electrodes, we are able to produce signs that stay bright and last for years- guaranteed.
---
Count on JMS's expertise to bring your facility into ADA compliance. These ADA Compliant Signs identify and provide direction to functional areas of your building while still looking beautiful. Our Signs are written in bold lettering and Braille for the visually impaired.
Nearest Businesses